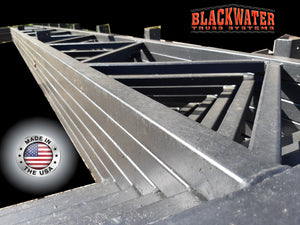 BLACKWATER TRUSS SYSTEMS
2" X 2" SQUARE TUBE STEEL TRUSSES
Sale price Price $355.00 Regular price Unit price / per
IF YOUR TRUSSES NEED EXTRA STRENGTH AS WELL AS BEING VISUALLY AND STRUCTURALLY STUNNING, THESE 2" STEEL SQUARE-TUBE TRUSSES ARE A TOP CHOICE AMONG MANY OF OUR  CUSTOMERS.  AVAILABLE IN A MULTITUDE OF SIZES TO SUIT YOUR NEEDS, OUR TRUSSES ARE PROUDLY MADE RIGHT HERE IN THE U. S. A. AND MORE SPECIFICALLY, FLORIDA, WHERE BUILDING CODES ARE EXTREMELY STRINGENT!  THAT, COMBINED WITH A FLORIDA WIND-LOAD RATING OF 150 M.P.H., THESE QUALITY-BUILT SQUARE TUBE TRUSSES WILL ADD THE ENGINEERING MUSCLE TO YOUR POLE BARN PROJECT FOR MANY YEARS TO COME!
WE PAY ATTENTION TO THE DETAILS TOO!  RIGHT DOWN TO OUR PURLIN CUP CORNERS WHICH ARE PURPOSELY ROUNDED OFF FOR SAFETY!
*PLEASE NOTE*  ALL OF OUR STANDARD GABLE TRUSSES ARE FABRICATED AT A 4/12 PITCH, AND ALL OF OUR STANDARD LEAN-TO TRUSSES ARE FABRICATED AT A 1.5/12 PITCH.  ANY OTHER PITCH WILL BE CONSIDERED CUSTOM.
*CENTER BOLTS ARE INCLUDED WITH ALL GABLE TRUSSES; HOWEVER, CARRIAGE BOLT KITS ARE NOT INCLUDED WITH TRUSSES.  IF YOU NEED CARRIAGE BOLTS ALONG WITH YOUR TRUSS ORDER, THEY MAY BE ADDED HERE.  (YOU WILL NEED ONE SET OF CARRIAGE BOLTS PER TRUSS.)
 PLEASE LOOK AT OUR INSIDE MEASUREMENT CHART TO ENSURE YOU ARE SELECTING THE CORRECT SIZE TO FIT YOUR NEEDS.
SHIPPING IS NOT INCLUDED IN PRICING.  IF YOU NEED SHIPPING, CLICK HERE TO ADD SHIPPING TO YOUR DESIRED LOCATION!
Traffic Counter