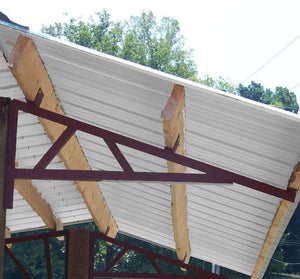 BLACKWATER TRUSS SYSTEMS
SPECIALTY SQUARE TUBE STEEL SNOOT AND HEADER TRUSSES
Sale price Price $144.00 Regular price Unit price / per
ARE YOU LOOKING TO ADD AN OVERHANG ONTO A SMALL PORCH OR ONTO AN EXISTING BUILDING?  HOW ABOUT AN AWNING FOR YOUR STOREFRONT?  BLACKWATER TRUSS HAS THE SOLUTION! OUR SNOOT / CANTILEVER TRUSS IS THE ANSWER!  WE HAVE SNOOTS THAT COME IN 4', 6', 8' AND 10 FEET. THE SNOOT TRUSS WORKS VERY WELL ON EXISTING BUILDINGS BY CREATING A COVERED ENTRY FOR YOU OR YOUR CUSTOMERS THAT IS WEATHER-FRIENDLY.  SNOOT TRUSSES ARE A GREAT ADD-ON TO YOUR EXISTING ENTRYWAY OR WINDOWS! 
*Snoot trusses are sold non-engineered.  We can engineer them for an additional cost!  Bolt Kits for snoot trusses are $10.00.
* Header trusses can also be used as floor joists.  These come with one truss bracket.  There will be an additional cost for extra brackets at $25.00 per bracket.
OUR TRUSSES ARE PROUDLY MADE RIGHT HERE IN THE U. S. A. AND MORE SPECIFICALLY, FLORIDA, WHERE OUR BUILDING CODES ARE EXTREMELY STRINGENT AND COME WITH A FLORIDA WIND-LOAD RATING OF 150 M.P.H.
WANT 'EM SHIPPED?  CLICK HERE TO ADD SHIPPING TO YOUR DESIRED LOCATION!
 WALMART, HOME DEPOT, LOWES, MENARDS AND BUILDERS FIRST SOURCE DON'T  CARRY OUR STEEL TRUSSES, SO YOUR 1-STOP TRUSS SHOP IS HERE!
Traffic Counter