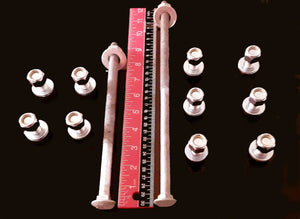 BLACKWATER TRUSS SYSTEMS
BOLT KITS
Sale price Price $25.00 Regular price Unit price / per
CARRIAGE BOLT KITS ARE NECESSARY TO SECURE YOUR TRUSSES TO THE POSTS WHEN YOU RECEIVE THEM.
CENTER BOLTS ARE INCLUDED WITH ALL GABLE TRUSS PURCHASES; HOWEVER CARRIAGE BOLTS ARE NOT AND WILL BE NEEDED TO SECURE THE TRUSS TO THE POSTS.
NOTE - TUBE TRUSSES USE 5/8" CARRIAGE BOLTS AND ANGLE IRON TRUSSES USE 1/2" CARRIAGE BOLTS.  EACH TRUSS REQUIRES ONE SET OF BOLT KITS.
FOR MULTIPLE QUANTITIES, YOU MAY CHANGE THE QUANTITY IN YOUR CART BEFORE CHECKOUT.
1 TRUSS = 1 BOLT KIT SET FOR THAT TRUSS.

Traffic Counter